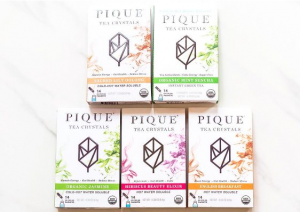 Tea is the perfect drink to boost your day. This article will discuss Pique Tea, an emerging brand in the market, with its innovative ideas. Their tea has taken the place of many dining tables across the globe. Their crystal tea does not only provide taste, but the tea is also a source of nutrition. You can dissolve their tea into the hot water, but you can also use cold water here. The health benefits of their tea are available when you are drinking it regularly.

Their Products:
Pique tea provides a caffeine-free range of green tea, black tea, and herbal tea. You can find TCM mushroom elixirs here. From their official website, you can buy individual flavors as per your need or go for the already assorted collection, which will cost much less.

Ode to Tea:
Pique tea is offering an assorted collection for a limited time called Ode to Tea. All the flavors in this pack are unique, but the box makes a perfect gift box. For instance, the gift box plays Beethoven's Ode to Joy when you open the lid. The contents of the box are: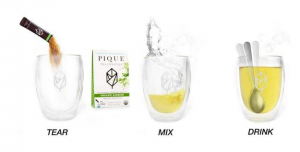 Eight flavors (six servings per pack)
A glass beaker.
A booklet containing all the information.
A guide about the procedure to brew tea is also there in the package.
You can turn this box into a timeless tea caddy with an extra divider that comes with the package.
Gut Health Bundle: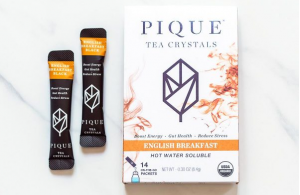 This bindle has the following flavors:
Lily Oolong (black)
Mint Sencha (green)
English Breakfast (black)
Jasmine Green
Hibiscus Mint (Jamaica)
Tea Crystals Quality:
While thinking of instant coffee, you should know that it consists of dried and frozen coffee beans, which you can use instantly. Pique Tea is a type of instant tea, but their tea does not have freeze-dried tea leaves. You can learn how they make these tea packs on their website. They start by cold-brewing tea leaves and herbs for up to eight hours. The benefit of doing this process is that it generates more antioxidants and other plant nutrients. Then the following procedure is crystallization which involves removing water from this cold brew using pressure and low heat.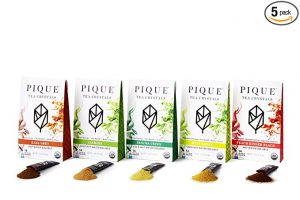 Procedure:
You can dissolve these tea crystals in hot water; however, you can also use cold water for green tea. The black and herbal tea requires hot water to dissolve properly. The easiest way to enjoy cold tea is to dissolve tea crystals in at least one water and fill the remaining seven ounces with cold water.
Caffeine Content in Pique Tea:
You can check caffeine levels in individual flavors by flipping the pack and seeing information on the backside. The tea leaf symbols show the caffeine content on a 5-point scale. The more the leaves on a scale of five, the greater the caffeine content.
You can also view their website for detailed information about each flavor.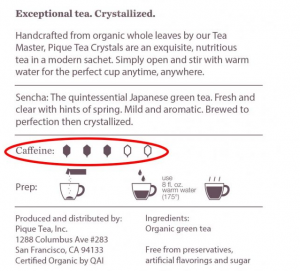 Pricing:
Each package which consists of 14 bags, is available at a price range of $11.99-$15.99, and the average price of each pack is around $0.85-$1.14.
Conclusion:
Their 100% organic tea crystals are appetite suppressants with a more excellent satiety value than average tea. Due to higher antioxidants and nutrients, their tea is more energizing, and the best time to consume their tea is in the morning and the afternoon. So, Pique tea is the right choice for you if you are looking for an instant boost of healthy tea.