With the world constantly getting revolution in the online field, software developers and tech giants across the globe are determined to make online tasks easier. Recent file formatting tools have led to a relatively new PDF Editor, Nitro Pro. There was a time when Adobe Acrobat was perhaps the only good PDF editing tool that existed. But now, these new PDF editors have taken a considerable share of this market. This article will cover some of the significant distinctions of Nitro Pro, and in the end, you will love it.
The Mission:
The company is highly involved in document manipulation for worldwide businesses. This mission suggests that most of its users are not individuals but big business groups that have to manage large files without any trouble, and the process should be time-efficient. With this goal, they launched this simple yet powerful PDF editor tool to customize any PDF in any way you want. The company originated in Melbourne, Australia, and now has more than 2 million users. Apart from this number, more than 10,000 registered businesses are partners with the platform.
The Team:
Nitro has one of the most efficient teams working round the clock to maximize productivity. The official name of their team is "Nitronauts." Pushing a new platform on a global scale requires fearless leaders and the successful efforts of an ambitious team. Their global leaders are eyeing increasing trust among their partners. They have provided services to large businesses and even small ones to thrive in the marketplace. The team works as a family and helps each other out to yield positive results, and this reason is their base for growing success.
Online Support:
The Nitro Company has its online support, and this feature is not among other software. So the company is not just about PDF editing. It is a complete online support program for businesses and individuals so that you do not get stuck. Their customer service is highly responsive.
NITRO PRO FEATURES REVIEW
User Interface:
At first look, the user interface is typical of every other PDF Editor. You can see the Files Tab to access all software tools, the Home Tab to see the essential features of the Editor. Then there is a Page Layout Tab to adjust the layout of the PDF File. These are just the primary Tabs on the first look, but more to this software. We will explore these features.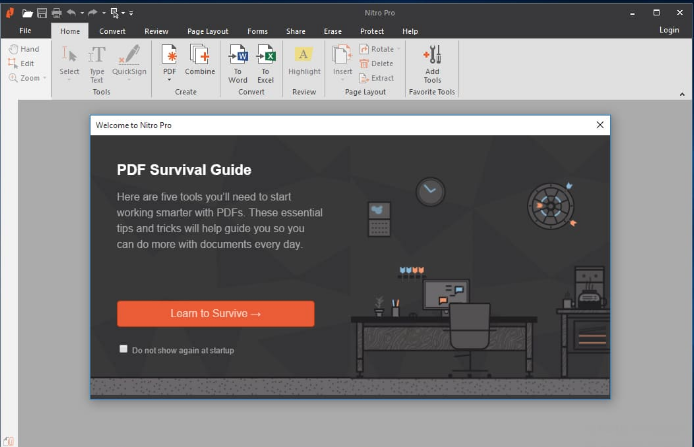 Navigation Panes:
The pane menu allows you to access important areas of your PDF file or any document you are working on efficiently. The pane menu includes:
• The Pages Pane:
This pane allows you to scroll through all the pages of your document quickly. If you are looking for large documents with multiple pages and have to spot a particular image, graph, or table on a specific page, this feature can be handy.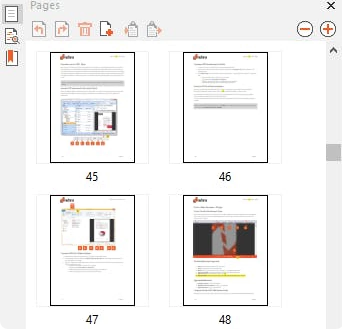 • The Bookmarks Pane:
If you are viewing large documents, these usually have a Bookmarks structure. To easily access that particular bookmark on a specific page, you can use this page to jump to the location. This pane will save you a lot of time.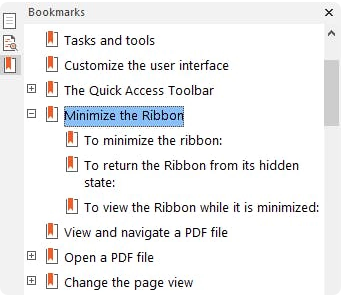 • The Signatures Pane:
If your document has one or more digitally countered text (signatures), you can quickly get a comprehensive look at them using this signatures pane. It is essential to know that the signatures and bookmarks panes are content-aware. They will only show something if the document has any signatures or bookmarks.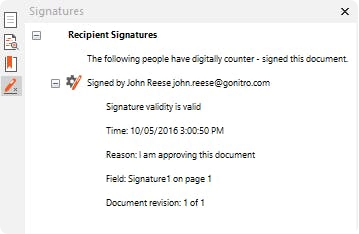 Create and Merge:
This feature supports more than 300 formats of files, so you can easily merge them to create one file. Using this feature allows you to create PDF files instantly. So if you have a JPG file or DOCX file, you can merge them both and create a new PDF file.
Convert PDF Files:
This area is the one where most of the PDF Editors fail. With Nitro Pro, you can easily convert PDF files to or from Office Word, Excel, or PowerPoint. You can have the original formatting and editing of the document in PDF form. Using the Office Outlook Plugin, you can convert email attachments into PDF. This feature saves a lot of time.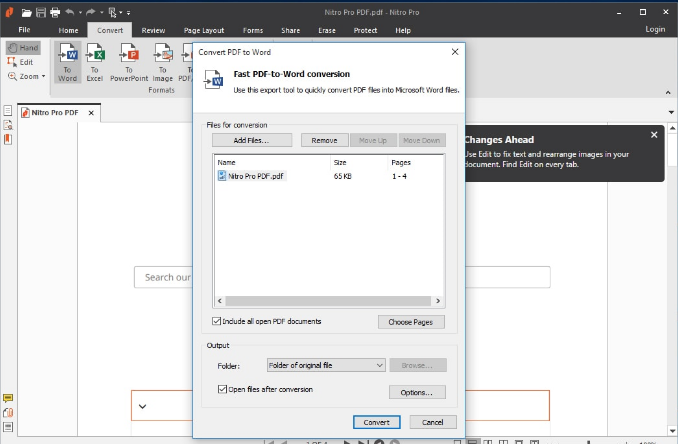 Editing PDFs:
The PDF Editor thoroughly breaks up the PDF file for you to access any part of the PDF file. This way, you can easily edit the PDF file and add Page numbers, Logos, Watermarks, bookmarks, and many more features. Optical Character Recognition Feature can convert scanned documents into PDF files. These are some of the features which are not entirely available on other PDF Editors.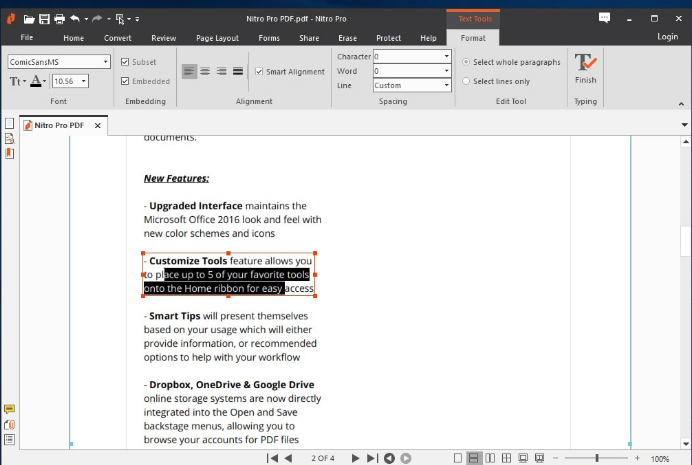 The Review Tab:
Are you having trouble adding comments, links, attachments, or stamps to the PDF files? Nitro Pro solves this problem by providing all these features under the review tab. You can highlight any arts of the documents and elaborate the text for further use. A feature under the review tab allows you to compare PDF files to know the differences. All these features under the Review Tab cut extra time and effort.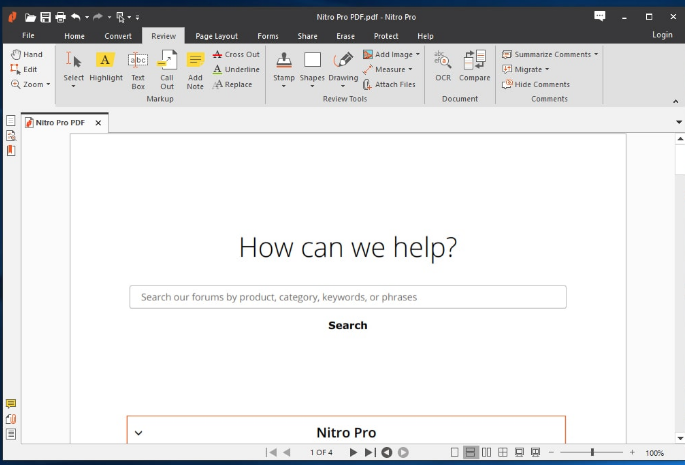 Fill and Sign PDFs:
This feature is available under the Home Tab. This feature is perhaps the most exciting feature on the Editor as it allows you to fill forms and convert forms into editable PDFs. With the sign feature, you can sign and authenticate any PDF file. This feature brings time efficiency as you can do all the work on your device.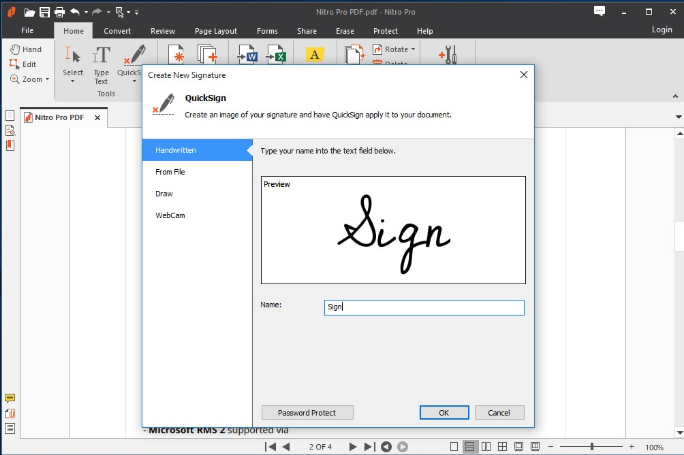 Work From Around the World:
Nitro Pro is not just a stand-alone software. Their online services give you access to cloud storage, and you can access this storage in the software under the Share Tab. This feature allows multiple users to link to one cloud storage and access the files there and review them or leave a comment. You can reach out to any user connected to the cloud storage and request his signature. These files are compatible with any browser.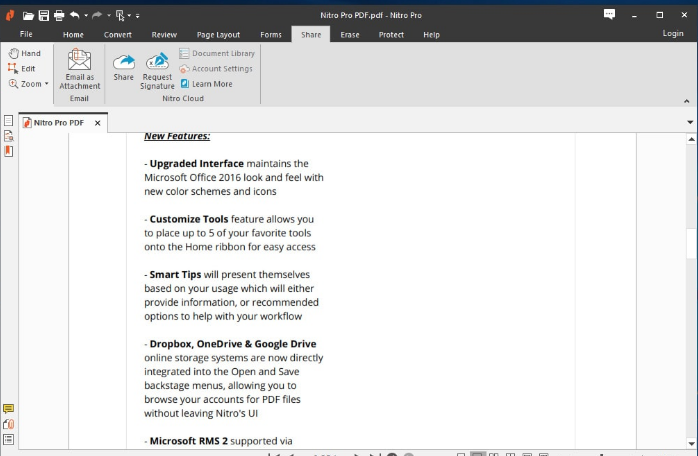 Conclusion:
With this review, we can safely say that their PDF editor is giving a tough time to its competitors. This Editor has established the basis of a growing platform that is bound to succeed. The Nitro Group is also active on various Social Media platforms. You can trace them on YouTube. They have a large family, and you will love being part of their family.