With over 80 million installs worldwide, Manycam has proven to be among the most renowned software programs for live broadcasting. ManyCam has become more popular as users regularly look for ways to improve their video conversations and live broadcasts. The chapter presents a review and tutorial for the manycam software that will make life simpler for novices.

This article will provide you the outline of ManyCam, including its main features, membership options and price, pros and drawbacks, and alternatives. By the end of this piece, you'll have all the knowledge you need to create your first video call and a live video that will leave an impression on your viewers!
Manycam Download
Manycam is a freeware webcam software that allows users to improve video conversations and broadcast live on many platforms and devices. With the app, you can easily make quality presentations on your platform, record your screen, and apply the effects you desire.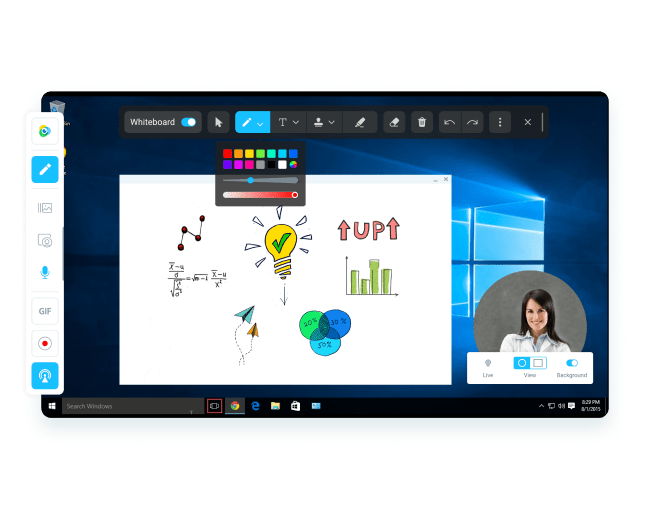 You can convert your PC into a competent film studio for live videos and a video switcher with the ManyCam. Using Manycam may enhance your pictures and videos with stunning graphics and webcam effects. The excellent webcam filters will make you appear fantastic in front of the camera. You may use the ManyCam face recognition technology to create bizarre facial effects and masks. Change your webcam backdrop to seem like you're in a studio, it's snowing outside, or you're on fire! You may pick from a large number of effects in the extensive library of manycam program downloads.
ManyCam's main features
Using many different video sources
ManyCam allows the user to choose from a variety of audio, video, and picture file sources. You may use the pull-down option to add a fresh picture snapshot, still image, another camera, or the desktop as the video's source; this implies that the user may select from various videos to express their creativity completely. You may produce a consistent video clip by using a gradual transition or cutting between several sources.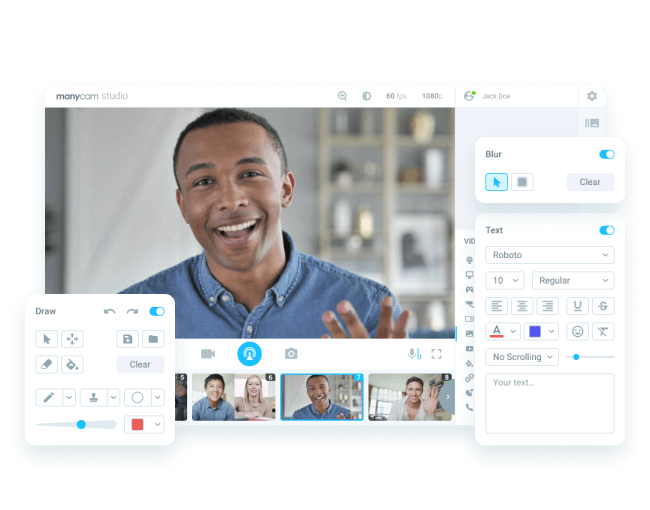 Lower third
On the third of the screen, there is a graphic-text overlay. Used to add the title or business name to a video clip and website domains and other information; this is necessary to personalize the video or provide crucial messages.
Green-screen environment
To make you seem like you exist everywhere, the Green Screen effect enables you to alter the backdrop of the video by adding another movie from the library or using the Picture in Picture feature. Remove colors from the scene and replace them using a pre-defined film from the collection or a video of your choosing. Before utilizing the footage in the video recording, make sure it is supported.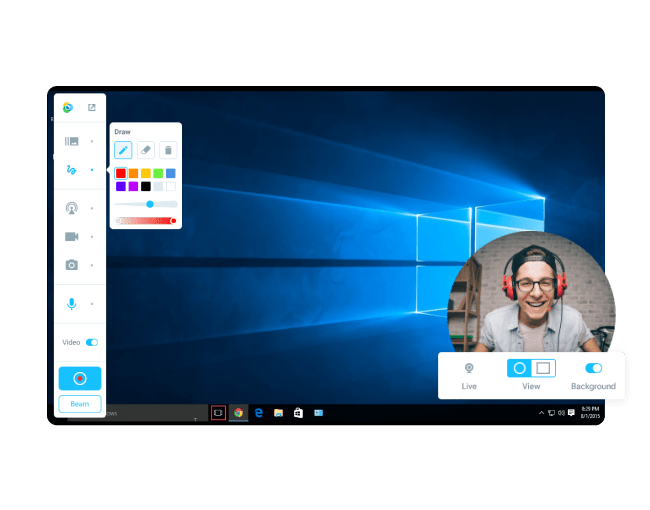 Picture in picture
You may alter the backdrop of your video clip using the picture to picture function. You may utilize a simple set, a pre-defined background, or modify your recording environment by selecting an image or a video from your preferred source.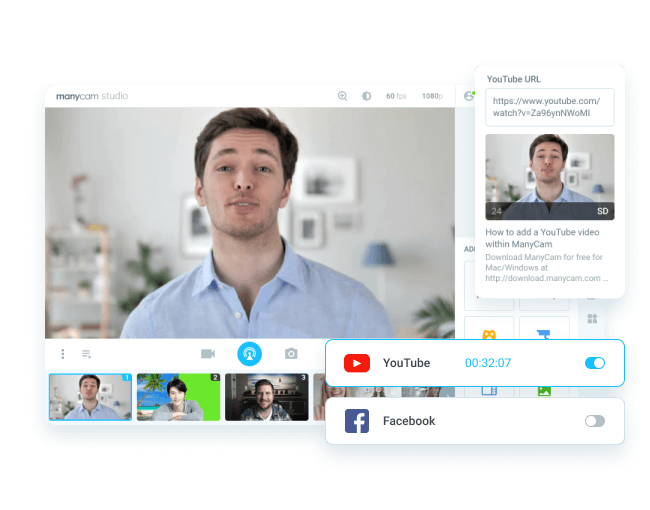 Graphics effects and 3D masks
The user may customize the facial accessories, custom effects, and backdrop in ManyCam. Custom effects from your library may be downloaded or published to your PC. This offline effect installer aids in the creation of one-of-a-kind films that showcase your originality.
App with a mobile source
The ManyCam Mobile source app enables you to utilize your phone as a video source. You may capture videos with your phone and transmit them to the program when you're on the go. You could also use your smartphone to act as a video source and share it from anywhere; this lets you capture films when away from your computer and easily share your adventures with friends and family!
Creating a Screencast on the Desktop
A screencast is a feature in which video recording of the events and actions is on your computer's screen. You may make a video recording and save it to your PC. This function is a tool to record video tutorials on your computer and upload them to YouTube. Drag the image onto the Picture to Picture feature, select the backdrop color, and customize the size.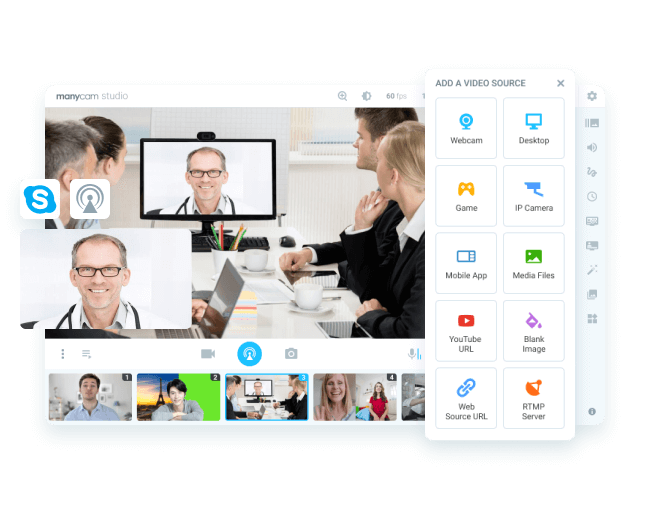 Broadcast of multiple channels
You may utilize several apps at the same time with the manycam software download for pc. On Yahoo Messenger, Google Hangouts, and Skype, you may speak to family and friends simultaneously. It also enables you to broadcast live on many channels at the same time.
Integration with YouTube
ManyCam allows you to stream and broadcast videos from YouTube directly. Choose a YouTube URL from the pull-down option, then enter the URL of the video you wish to watch, and it will start to play immediately.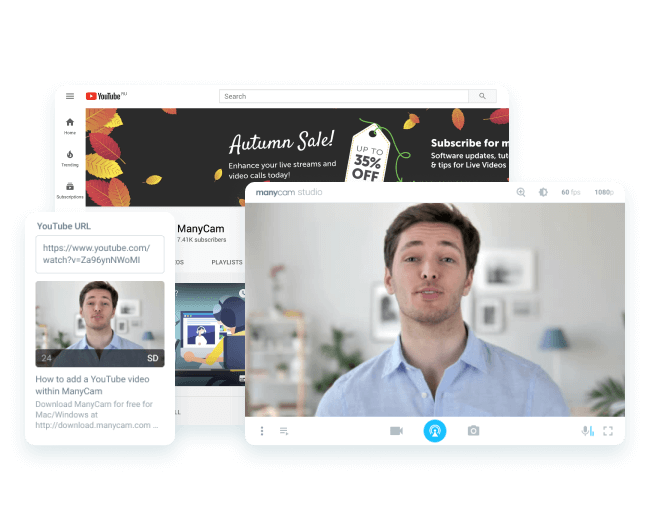 Price and Plans
ManyCam is offered in various plans, allowing you to make use of its capabilities at a low cost. You will have the choice of purchasing a lifetime or yearly membership.
The advantage for Lifetime Subscription
You will have access to future upgrades and versions of ManyCam if you purchase a lifetime membership; this implies that after buying the ManyCam once, you will be able to use all available versions and upgrades of the program for free.
Plans
ManyCam also provides various subscription levels, ranging from personal and business to standard, studio, and premium choices. After you've purchased your membership, you'll need to establish an account to which Manycam will connect your subscription.
Annually, a standard plan costs $27. It only enables one device to be linked and has no watermark from the ManyCam program.
The annual fee for the studio plan is $49 per year. It supports up to two gadgets with up to 12 sources and 4,000 videos.
The yearly premium subscription option is $69 per year. It supports up to three devices with up to 24 sources and 4,000 videos.
The enterprise plans include the Enterprise 3 version, which allows three devices and costs $102 per year, the Enterprise 5 version, which supports five devices and costs $102 per year; and the Enterprise 10 version, which supports ten devices and costs $181 per year.