Sound effects take our videos to the next level, and matching sound effects with the video's content is the goal of every video editor. Unfortunately, most of the sound effects and music audios available on the internet are not royalty-free. You cannot reach maximum potential in your videos if your only source is free music on the internet. This article will deal with Artlist.io, which provides yearly subscription plans for all the favorite playlists and fantastic sound effects. So let's dive right into the details.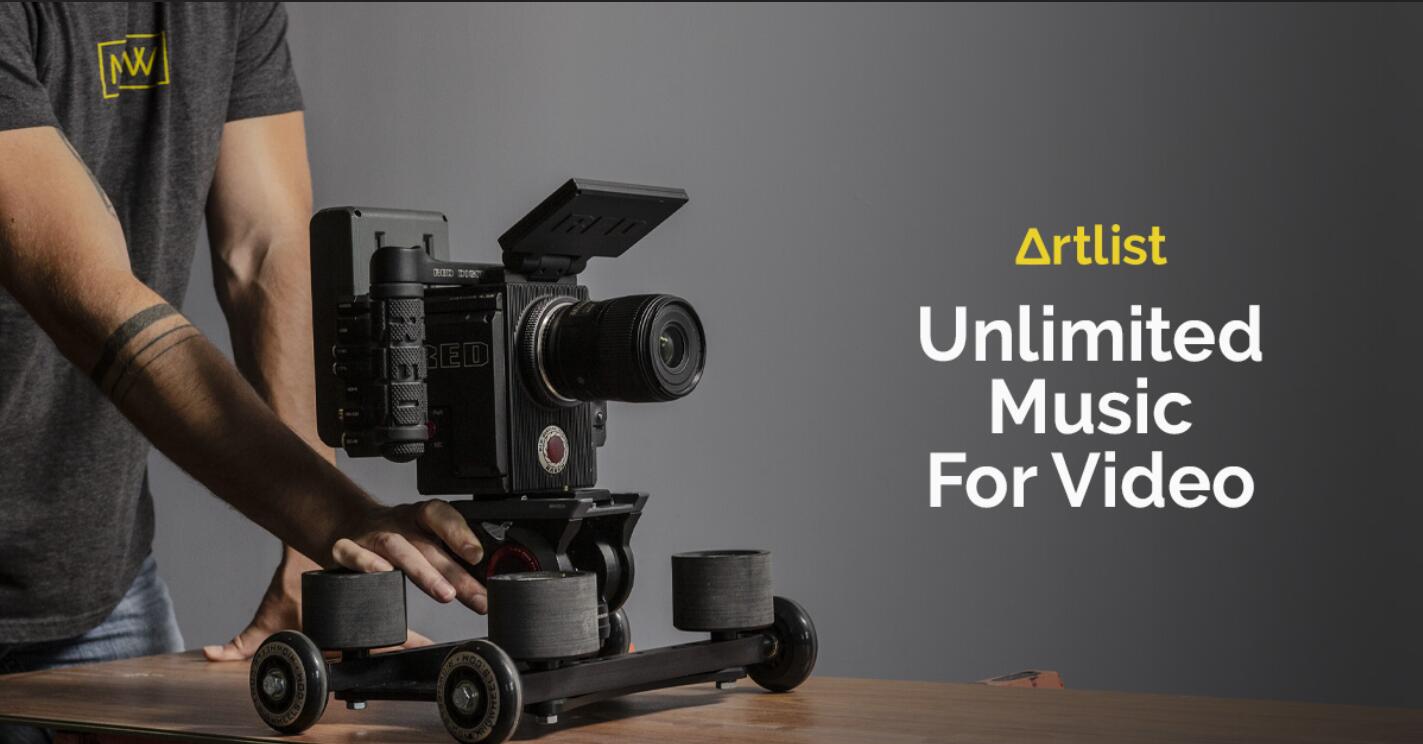 Services:
Artlist has Israeli origins, and they provide stock music and sound effects for all your projects. The company became functional online in 2015, and it aimed to change the way millions of content creators find and use music and SFX for their video projects and other services. The company gives licensing for all the footage that an artist creates using their services and other impressive deals on Artgrid, a platform solemnly for filmmakers and video editors.
Artist has the potential to find the best musicians on the planet and then present their talent on an effective platform where both beginners and professional filmmakers and video editors can find them. Artlist is the platform where musicians put their heart and soul into presenting their finest work. This fact is evident from great positive reviews from its users.
Experts at Artlist believe that music should be available to all people as it provides serenity and evokes positive vibes. The problem with quality music is that it is not generally accessible for all users. Artlist provides high-quality music at affordable subscriptions.
Licensing music is tiresome as it slows down the creator's pace. Artlist provides a single annual subscription fee that unlocks all music catalogs so creators can create stuff all year round.
Gathering filmmakers and musicians on a single platform is an incredible feat as today, both the areas are closer to each other. Artist believes that for their success to be limitless, they should take care of their artists. That is why Artlist pays its artists well for their work and takes good care of the associated talent with their platform.
Music Catalogue:
Artist believes that each character of a particular song has endless meanings, so to properly adjust it in their catalog, Artlist has a very sophisticated team. Moreover, Artlist also organizes music depending on its users' post-production workflow and reviews. All in all, their music catalog is second to none.
Moreover, their web-designing team has provided a streamlined website that every user can easily understand. As of today, there are more than 18000 songs that are present in the stock of Artlist. And this number is still growing, seeing the growth of their platform and its widespread popularity.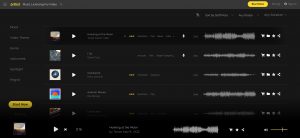 Artist License:
With their ultimate license, you can post our videos and content on any significant social media platform and other areas on the internet. You can easily broadcast your content and publicize it according to your resources with their permission.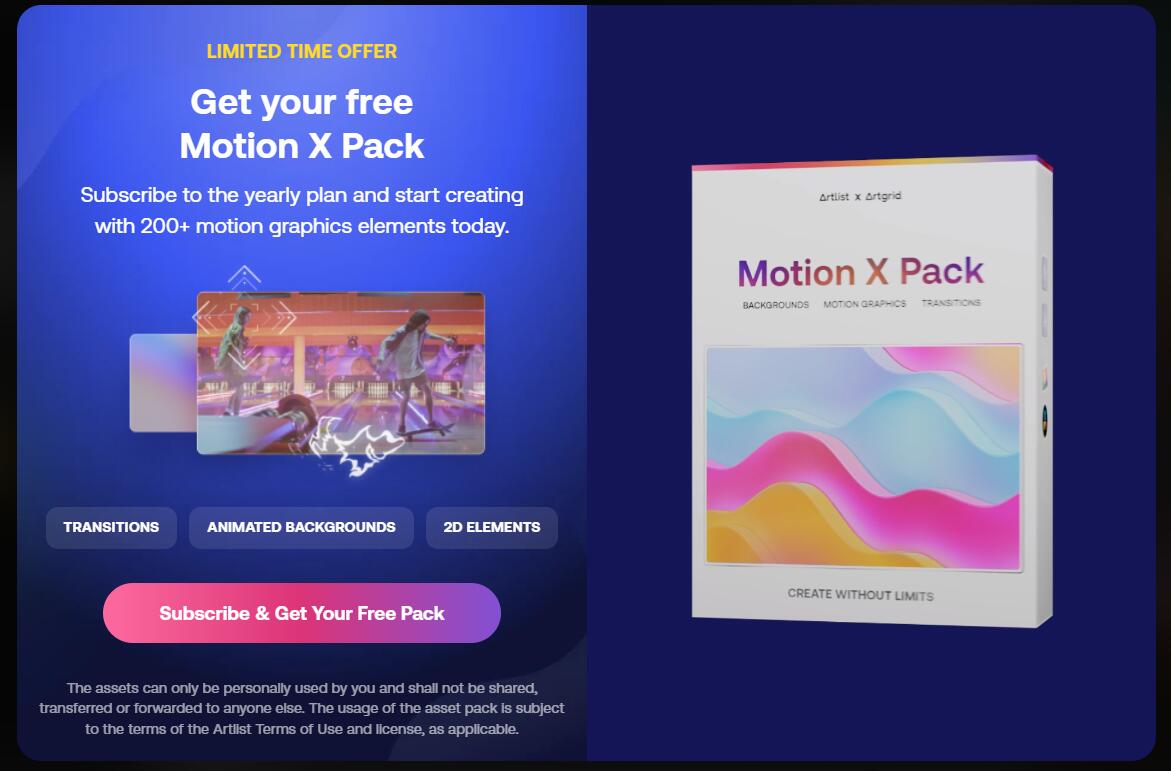 Subscription Plans:
Their plan is one of the best for all your social media accounts. With this plan, you can quickly post your videos on YouTube, Facebook, Instagram, Twitch, Podcasts, and TikTok.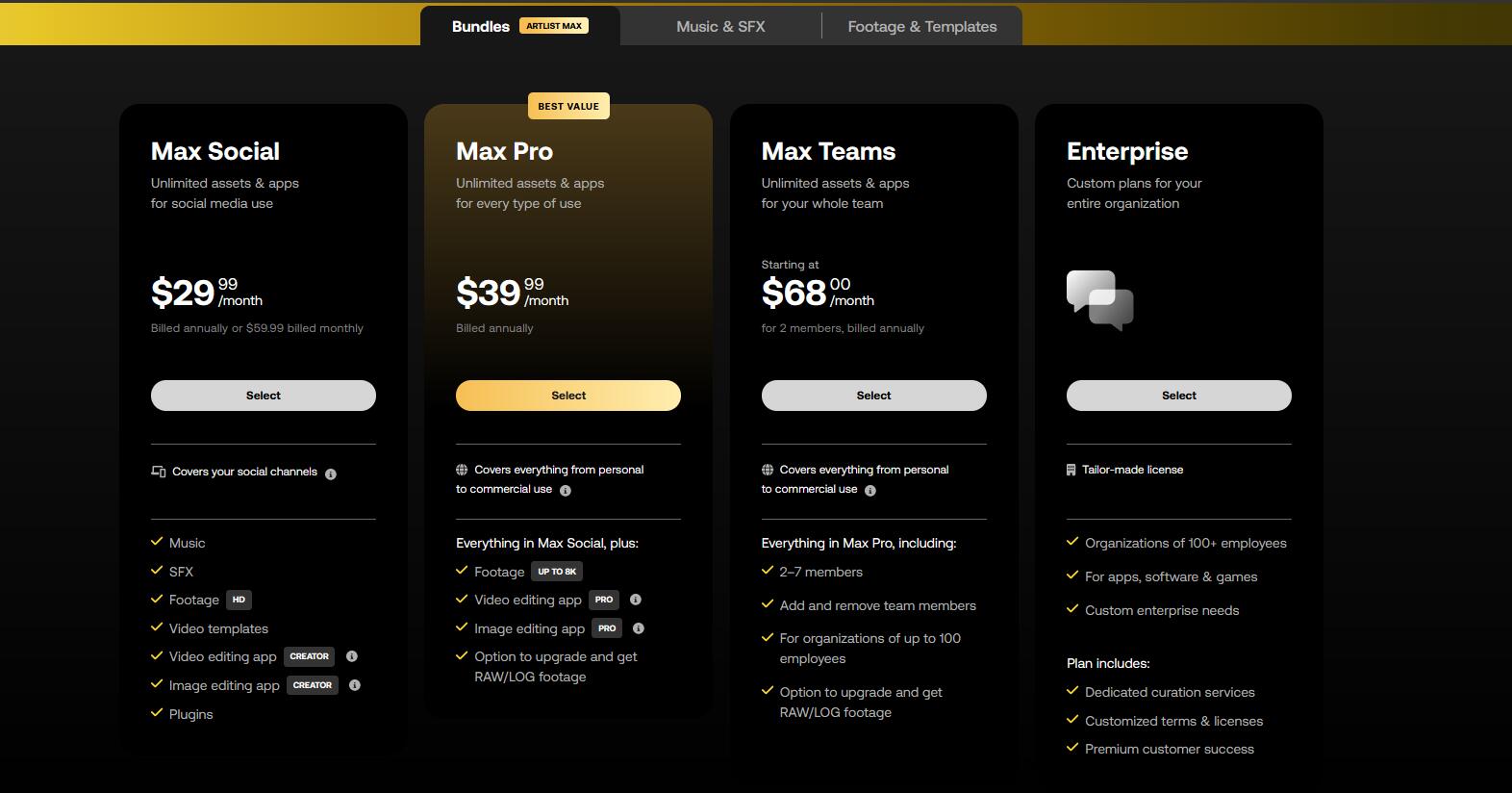 As of 2023, Artlist offers four different subscription plans.
Max Social – $59,99/month if billed annually or $29,99/month if billed annually
This plan is perfect for those who create projects for their social media channels (you can use it on one channel per platform). The license covers:
Instagram
Facebook
YouTube
TikTok
Twitch
Podcasts
Max Pro – $39,99/month
This is the best plan for those who create both personal and commercial projects. The license covers:
Unlimited use on social platforms
Client work
Paid ads
Podcasts
Commercial work
Broadcast & TV
Websites & all online platforms
Max Team – $68,00/month for 2 members, billed annually
Multi-member account,perfect for team work:
Unlimited use on social platforms
Client work
Paid ads
Podcasts
Commercial work
Broadcast & TV
Websites & all online platforms
Enterprise – for prices contact Artlist
This plan is tailored specifically for companies. The license covers:
Customized licenses
Premium customer success
Customized terms
Dedicated curation services
All In Pack:
For a limited-time, Artlist is offering all its new and existing clients the All In Pack! This includes everything a creator needs to create a video from A to Z, including a storyboard, shot list template, sound effects, motion graphics, and more.
All assets are compatible with every editing software, on both Mac and PC.
Check out what's included!
LIST OF ASSETS:
5 film mattes
7 glitch effects
5 LUTs
16 motion graphics
7 pro film grains
30 SFX
Shot list template
Storyboard template
5 VHS